Ah, vampires. How do we love thee? Let me count the ways (70 million copies of
Twilight
sold...)
Glancing at any bestseller list it seems that the nation has been overtaken by vampire mania. From
Twilight
to
House of Night
to
Vampire Academy
, it's clear that undead is the new black.
I've long been fascinated by vampires. I read Dracula at age 10 and have gobbled up vamp lit and films ever since. But for me the moment of truth came in 1997 when
Buffy the Vampire Slayer
premiered on the WB (remember the WB? Dominion of the teen drama?
Dawson's Creek
,
Felicity
, anyone?)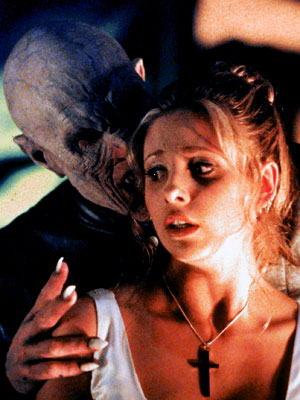 It was love at first bite and I've been faithful. BVS is the best show I've ever seen. My morning ritual is to watch an episode as I eat breakfast, repeat, until I get through all the seasons and then start over again. It never gets old.
But Buffy slays vampires, and this post is about the lords and ladies of the night themselves.
So what is it about vampires that fascinates us? Arguably most of us like the sun, so why would we want to hang out with folks who could never join us at the beach?
The current phenomenon of vampire love, while impressive, is not new. Like werewolves, vampires have a long, diverse history of lore and the current manifestation of vampire types reflects this range of mythology.
I have my own theories, but I'd like to ask you two questions.
1) Why are vampires so popular and enduring?
2) What is the best type of vampire (scary, sparkly, somewhere in between)?
And as a final note, I just have to have a mini squeeeeeeee because of awesome (but super secret) news from Editor Jill today. Will share when able!