It's Unofficially Official Agent Day! (Thanks to
Kody Keplinger
for this great concept.)
Today we celebrate all the wonderful work agents do to make writers' dreams jump from author's mind to readers' hands in the form of beautiful books.
I'm thrilled to be represented by the phenomenon that is
InkWell Management
. My agents Richard Pine and Charlie Olsen are more than superheroes. They are
my
Mad Men.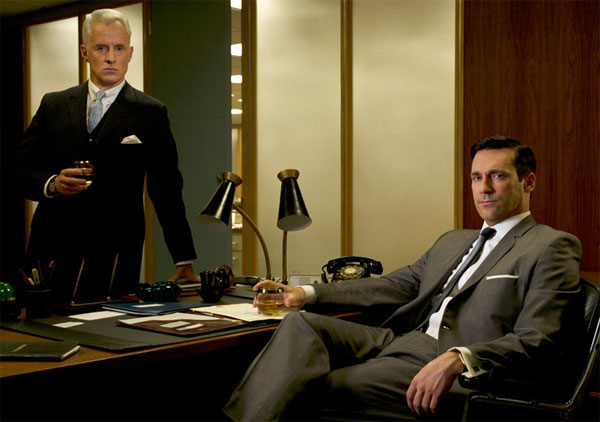 Charlie Olsen
Dear, dear Charlie. I am not a morning person, but
THE CALL
from Charlie came at 6 a.m. when I was in Seattle at a history conference and it was instantly the BEST MORNING EVER! He drew my little ms out of slushy peril and polished it to a shiny glow. Plus, he loves comics. Epic win.
Richard Pine
When Richard first called to introduce himself I was in Salt Lake City at a history conference (wow, good things happen when I'm out of town. Note to self: must travel more), having just lugged my suitcase in the pouring rain across the University of Utah campus to my uh...spartan little dorm room (it really felt more like a cell and I was wondering whether saving money by staying in the dorms rather than the conference hotel was really worth it).
My phone rang and Richard proceeded to turn my world upside down with compliments and his ever-present, sincere-but-hypnotizing charisma. It no longer mattered that I was stuck in a tiny room, with a scratchy wool blanket, and shower over toilet combo bathroom - everything had new sparkle.
Lyndsey Blessing
I haven't had the chance to talk with Lyndsey on the phone yet, but she is my favorite email buddy. Lyndsey works miracles with foreign rights in addition to being an all around lovely person. (*Update: Just this morning Lyndsey sent another great email announcing my book deals in
Czech
and
Slovak
!)
Patricia Burke
Patricia and I also haven't spoken yet, but we have a constant second hand "I've heard great things about you, I love your work" back and forth via Charlie and Richard. I can't wait to meet Patricia and I already know she's doing amazing things for my books.
The Team
One of my favorite things about being represented by InkWell is that all my interactions with my agents make it clear that this agency works as a team. I know my manuscripts get multiple reads and that enthusiasm for my work comes not from a single person, but runs throughout the whole group. And an incredible group of talented folk it is! I am the luckiest girl ever :)
Thanks so much to my Mad Men (and Women)! You've got the talent, the style, and the spirit to rock the literary world and you do so every day. I'm so thankful to be a part of it.
I'm counting the days until I come to New York to meet my InkWell family!!
Want to see more agent appreciation and learn about Unofficially Official Agent Appreciation Day? Get thee to
Lisa and Laura's blog
for a list of all the participating authors.